This is a quality article!
You are looking at one detailed and comprehensive article. Only edit it if new information emerges or if something really needs to be changed.
The
OneNation Discord
is the main method of communication between more active OneNation members.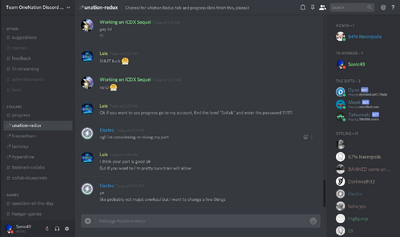 Who uses it?
Almost everyone on the team. It is recommended to join the server if you are part of the team. To see if you are a part of the team, read here.
However, you do NOT have to be on the team to join the server. Though, it is recommended that you join only if you have an interest about the team, or if you are on the team.
Who owns it?
The Discord was created by Trainiac and is therefore owned by him. ElectroBlaze, Korr, and Jafi are admins there, and also help to moderate. As long as you follow the rules that are seen in the #rules channel, you will be good to go.
How can I join the Discord?
There used to be a long and complicated way of joining the server but now it's just a simple invite. Make sure you have a Discord account. So here it is!